Teejay happened to stop by my work on random with his dope Miata and its sourced rare/home made parts and mentioned this place.. I was told to drop by and have a look..
I'm 23 from Oslo, have had the same screen name for like 10+ years.. Hobbies are many, but three major favorites are women, beer and cars in no particular order. My car taste is weird and it reflects a little of what I drive.. Currently have too many cars under my belt.
My current driver, 2000 Toyota' Funcargo' built on the same base as Scion xB, Tein coilovers, 8Jx17 ET20 Rotiform BLQ all around, Sparco P350 wheel, stubby antenna, JDM rear badge.. 1.3 90 hp, dead slow but bulletproof to where it gets boring.
Fun car #1, 89 Daihatsu Charade GTti.. ~130-140 hp, 1700 lbs makes it interesting.. Three cylinder 993cc turbo intercooled, way ahead of its time. Custom coilovers with rebuilt fronts, 7Jx15 ET24 Borbet Atiwe, rebuilt from basically a bare shell.. US bumpers, need to wire up my side markers, possibly a front mount, build a hybrid turbo and get the car mapped properly. Going for around 180 hp which should give it a nice hp/weight ratio.
Fun car #2, 88 VW GTi 16v KR, holiday screamer in Cyprus. Bought it this summer, I guess black Porsche handles, coilovers and some rollers on the table, together with some maintenance. I'm in Cyprus about a month a year so it's good to have something fun for windy coastal roads and remote canyons.
Sunday driver #1, 86 VW Golf.. PA built, Cali car, low mileage, three speed auto cruiser.. Polished Porsche door handles, coilovers, 7Jx15 ET13 BBS Mahle RA, early Polo steering wheel, high lift cam.. I love this car.
Sunday driver #2, 59 VW 1200.. 40k miles, always garaged, never subjected to winter elements.. My grandpa was its second owner, I became the caretaker as grandpa got older.. All original, down to the OG Jade green paint and chrome.. The tires remains a set of rock hard 70s edition.. The only car I have that is exempt from low-low and wide wheels.. I'd rather have another air cooled, 911 SC or early-ish Beetle to have some fun with :)
Future Sunday driver, 81 Daihatsu Charade with about 50 hp and a 2-speed auto box. It needs a control arm which is taking some time from Malaysia to arrive apparently.. Rather clean and OG, a little unsure of the mileage but I believe it's around 77k miles. 4x110 PCD same as early RX7s is stoooopid, so I'm having a set of adaptors to 4x100 made up.. Thinking of tossing on my Ronal Turbos and build a set of coilovers for it. It needs a re-spray too but one thing at the time.
This is my current fleet of turn-key cars.. I have some parts cars too but we can wait.. :D I can throw out a couple of other select photos while I'm at it. Ex driver/beater somewhat low
Ex rod #1, 82 KE70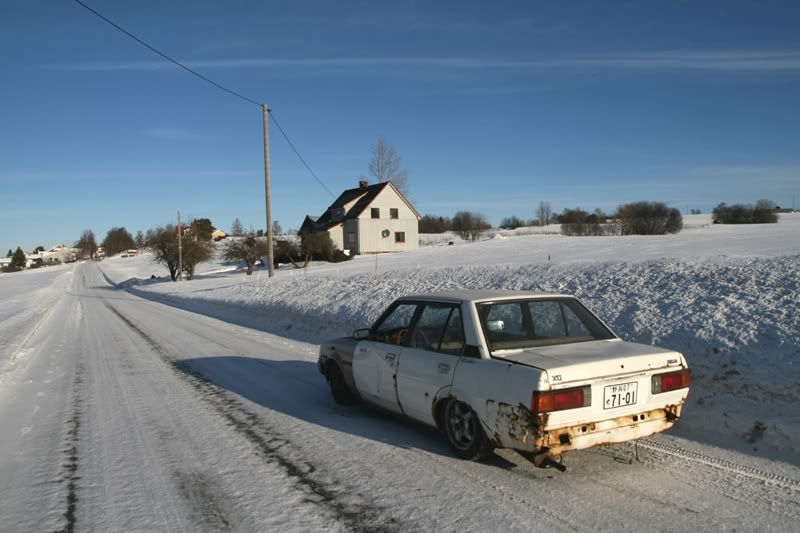 Ex rod #2, 77 RX30 Cressida, together with my old Nissan HB and Golf Mk3
Thanks for viewing.. meow I gotta have a better look around here to see what's up.. If anyone wants more info on some car shout. I'm probably gonna dump random pictures out when something worth wile happens.