Update time :)
So this week I embarked on a road trip to go visit Nick at Skuzzle Motorsport to have the car mapped.
Nick worked his magic and was incredibly speedy in mapping her! Thinking it would take all day,infact only took him till Lunch time.
When I had it dyno'd a few weeks after it was charged,it was 142hp @ the wheels and 180hp @ the flywheel.
She's meow a healthy 170hp @ the wheels and 204hp @ the flywheel! Its a lot smoother to drive and less punchy,Nick said he can adjust it to bring back some of the punchy-ness,but I'd have to sacrifice some Torque which I didn't want to do. The fueling is a lot better,she doesn't flame any more,but Nick kindly demonstrated how to change that in Tuner Studio. He did adjust it so it pops and burbles nicely at 4000rpm meow :)
Overall,incredibly happy and pleased with the results and the work/service by Nick! Cant recommend him enough!
So me and Mrs Reeper spent another day in the area and then headed home. Needless to say,after a 577 mile round trip,the Monster is in need of a bath meow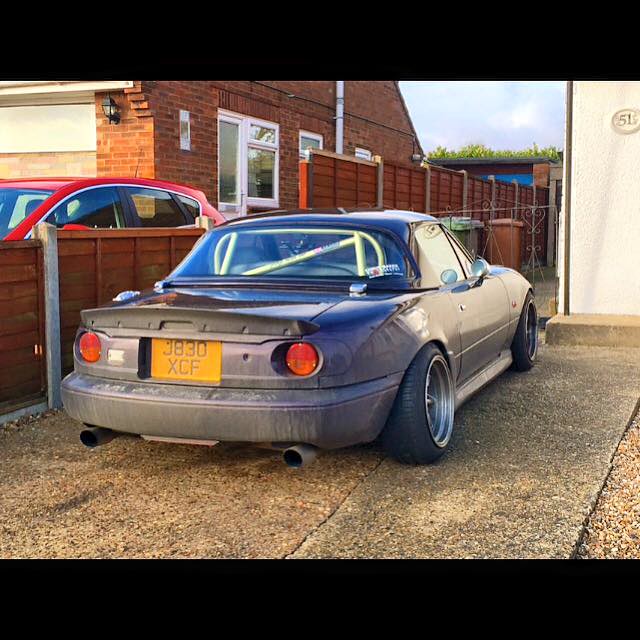 I'm sure everyone on here has dreamt of owning a particular car/car part. Ever since I've been involved with modified cars,i've always fallen in love with one particular alloy wheel.
I promised myself that one day I hope I could be so lucky to own such a wheel. So I bit the bullet and ordered them,knowing they're custom made to order,the waiting time would be an absolute killer and it seemed a lot longer than it actually was.
So after a 12 week wait and numerous emails sent bugging Rich at Driftworks,i finally took delivery of them today!
//WORK Meister S12P 15x9j ET0 in Gloss White
Mrs Reeper bought me some Wide Arches for Christmas. So i'll need to wait to have those fitted before the Works can go on.
I'll be wrapping them in 205/50 Rainsport 3 tyres. They seem to have a very good review and they're pretty good price wise.