Ordered some billet stalks from Freaky Roadster and they came here extremely fast! phantastic communication and received a lot of help with fitting! Would definately recommend getting some!
I also took delivery of a set of Carbon Fibre door cups and Polished Door Handles from Carbon Miata. Marc asked me to write a review on the Stainless Door Handles.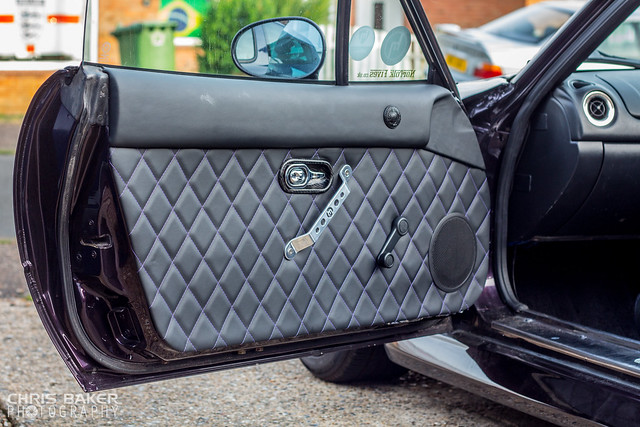 I had the postman knock on the door bright and early on Wednesday morning,spotting the chinese writing on the postage label,i knew exactly what this was,something i was extremely looking forward to receiving! Upon opening the package,i was expecting the handles to be quite heavy,infact they were quite the opposite!
These handles are EXTREMELY light,you can barely tell your holding them until you look down. I popped them on some kitchen scales and they weighed approx 70g (without the fixing screws). The finish is superb and at an incredibly high standard! The shape is simply and comfortable to grab while still looking classy with a hint of retro.
The laser cutting of the M emblem is top notch work,it looks like it was stamped out of a sheet of aluminium! There are zero sharp edges,wobbly cut lines,everthing is cut perfectly.
Installation took less than 2minutes per side. With the old leather door pulls removed,the new bolts fixed on quick and easy with a 7mm hex key,and sit perfect in the counter sunk holes of the polished handles.
I also fitted some Carbon Fibre door cups supplied by Marc at Carbon Miata. Again,the quality of these is extremely high,there's not a single piece of weave out of shape/line. I think they compliment the KG Works handles extremely well and helps bring in some Carbon Fibre to the interior of the car.
Another purchase i've recently made is a set of Runabout M2 Mirrors
I removed the door mirrors on my lunch break at work and the holes on the M2 bases don't line up with the original holes in the door. The mirrors were supplied with the rubber gaskets and a plastic block with two threaded holes.
With the M2 mirror base on the door,they do just about cover the original holes,but the mirror mounting holes are further in,central to the mirror.
Someone has suggested drilling two new holes and riv-nut them on. I'm taking a visit to the body shop tomorrow to see what they say :)