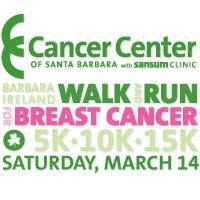 Thank you for taking the time to read this post! I hope you might be interested in helping me raise funds for a cause that's important to me.
I'm participating in a fundraiser for a local cancer center. On March 14 I'll be doing at least a 5K walk in the Barbara Ireland Walk & Run for Breast Cancer, 100% of the funds raised go to the Cancer Center of Santa Barbara. (If you remember model/actress Kathy Ireland, Barbara is her mom.) If you have an extra $5 or more to toss my way, I'd greatly appreciate it!
Almost 15 years ago, my little sister lost Katelyn, the woman she called "Mom2" her whole life, after Katelyn's breast cancer metastasized to her brain and killed her. The early loss of my sister's best friend's mom was devastating to her family and mine. Since then my sister has done various walks over the years to raise money for the cause and I'm thrilled to help her once again. We are walking and raising money in Katelyn's memory and honor.
The Walk's goal is to raise $75,000 and we're currently just shy of $16,000. We have a long way to go. My personal goal is to raise $500. Would you consider helping me?
Click here to link to my page at the Walk's site.
This has nothing to do with my job here at Moss. I'm hoping that this community doesn't mind me posting something so personal. I know I can count on you for your support! Thank you for your time reading this!
Sincerely,
Chris