So a couple of people I know got shiny new radar detectors for xmas, then come crying to me that the things are annoying, and they don't know how to tell false alerts from the real thing. I've preached about the virtues of a good radar detector many times, and it surprises me how many people still think they're too expensive for what they do. I've nearly maxed my license with speeding related points twice before I started using radar detectors, and learning how to use them effectively. Back in NY, a single driver's assessment fee violation, along with the actual ticket would've cost enough for a top of the line radar counter measure at retail. I've gotten these twice.
I don't claim to be an expert, but I haven't had a speeding ticket since 2007, and I've logged over 50k ticket free miles on the i95 between NYC and Stamford CT (the Mammoroneck area is known for heavy speed enforcement), I've also driven cross country from NYC to Las Vegas while avoiding trouble with the fuzz, despite no cruise control. I take no responsibility with what you do with this info, and will not be held responsible in any way if you decide to act with this knowledge in regards to your local traffic laws. In the end, these devices are just tools, and if you insist on driving a screw with a hammer, you won't get the most out of your tools. Common sense, and experience are the best weapons for beating traffic violations, a detector is just another info tool.
First things first, this guide mostly applies to beltronics and escort detectors, they're the only ones I have experience with (beltronics rx65 which was stolen, and meow escort 8500 x50, they're identical internally, but a few software differences). Out of the box, most detectors are going to be overly annoying, tripping over every little signal, and falsing all the time. To get the most out of your detector, requires a bit of programming.
Your detector should have a card in the manual similar to this one. From my experience, programming mode is reached by holding down 2 buttons. Then using 3 to change various settings. Your detector should also have the following modes
City, Highway, Auto
, it probably comes set to Auto right out the box. Manually selecting City or Highway, depending on what you're driving on will significantly reduce false alerts (in case it's not obvious enough, being in Highway mode is more sensitive). Radar detectors are pretty much useless in city driving anyway, turn them off.
The only settings we're interested in are "BANDS", these are the ones we're going to modify. They're the only ones which really effect how often the detectors trips, and how accurate each time it alerts is. To know what to modify, visit the following link
http://www.radardetectorforum.org/wiki/ ... cal_Survey
From there choose the area you drive most in. For me its Nevada, which I will use as an example. You'll get a chart similar to this one for your particular state.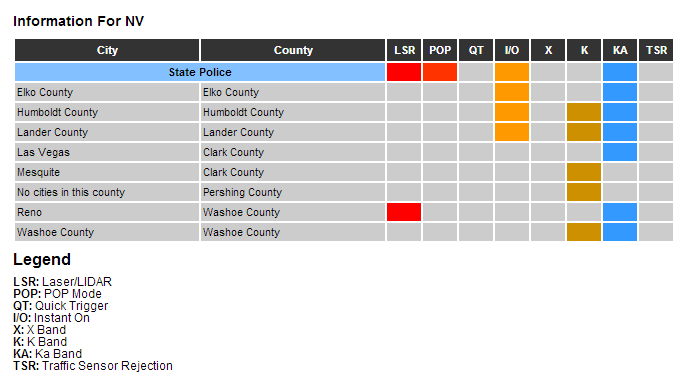 meow lets decipher the info in this chart. First the
LSR, or laser/lidar
, used by state troopers, and by Reno. You get hit by these, you are pretty much fucked (EZ Pass drive through tolls on the east coast used to trigger this alert for me), the popo's got your speed. Your best protection against this (without purchasing more counter measures), is just to know where it's used, and recognize obvious speed trap landscapes. Some say not having a front license plate, and having oxidized (non glossy) head lights can delay the Laser/Lidar from getting a reading, and give you enough time to slow down. Personally, I once slammed on the brakes as soon as I saw the LASER warning, and still got pulled over. But after harassing and scaring me, the cop finally admitted he didn't have me on the gun, and that if he had I might've not have my car anymore. This was at night, I was coming up on a crest, had a disappearing front plate.
Next we'll talk about
POP Mode
, this is a form of
instant on
radar, as opposed to constant on (my detector manual doesn't differentiate between POP and Instant On, not sure why the pics I posted do). Instant on radar guns are meant to defeat radar detectors by making it too late by the time you get the warning. Turning on this mode, will make your detector more sensitive, thus more likely to false alert. I recommend having this turned on if you're in an area where it's a risk. The best way to defeat this, is to have a speeding buddy, and let them lead. If you get a quick a alert that just comes and goes, or an alert that comes and goes repeatedly. That's most likely a POP gun. If you have a rabbit car in front of you, the POP was aimed at them instead of you. Not all is lost if you get hit by a POP gun though, in many states the info from a POP gun isn't admissible in court due to the fact it doesn't track you. If you drive in an area that doesn't use POP, turn it off, and lucky you, you've just reduced the amount of false alerts significantly.
Next I want to talk about
TSR and SWS
. My escort 8500 x50 has the TSR detection, I leave it off because as you can see, they're not used anywhere in Nevada. In California, on the other hand, they're quite common, and I turn it on to reduce false alerts. These are radar devices that detect the flow of traffic. My beltronics rx65 that was stolen had the SWS, which stands for Safety Warning System, which is supposed to be some sort of system that sends signals to warn of dangerous conditions. I used to leave it off, because, less false alerts.
Lastly, we'll talk about
X, K, and Ka
radar bands. Most alerts are going to show up as one of these. I highly recommend
Signal Strength Meter to Meter EXP
, which will allow the detector to display multiple radar sources, and using a bar display, the strength of each signal. This display mode is similar to the Valentine One's "bogey counter", except it also provides signal strength, but only displays up to 3 "bogeys" at a time (you will rarely, if ever see more than 2).
As you can see, my state doesn't use
X band
at all, so I turn it off completely (only NJ and Ohio use X band nowadays). This eliminate most false alarms from auto door openers, to fancy radar cruise control on those new luxo cars.
My state does use
K band
, as do many auto door openers in strip malls. Manually switching between City/Highway mode is the best way to minimize falses from these. State Troopers on the Hutchinson River pkwy used to make my detector show flashes of K. A weak K that comes and goes? Be alert, and slow down just in case. K signal in local? Ignore it. A constant K on the highway? Decide whether or not the landscape is suitable for a speed trap. If not, it's probably some douchebag in a german luxo with their radar cruise control on.
Ka band
, slam on the brakes until you're doing speed limit! This is almost never a false regardless of where you are. The only time Ka has ever falsed on me is when I'm going into an underpass, and the trap was actually on the overpass, or vice versa.
Ku Band
, my current detector doesn't have this band, but my beltronics rx65 did, and so does the 9500ix manual I posted. From my understanding this is a European only band, so Americans can turn it off. I left it on in the beginning on my RX65, and I remember it falsing a couple of times in CT.
For closing, I'm going to stress, looking ahead, paying attention, drawing on experience in recognizing possible speed traps, are what's most important. Speeding in packs is safest, check the plates especially of pack speeders, are they locals? Are a bunch of local plate cars suddenly slowing down? There's probably a reason for it. Coming up on a crest? Slow down. See repeating markers, check the sky. Do the guard rails or barriers have breaks? Only speed as far as you can see.